APR 2.0T FSI S3/Golf-R K04 Turbocharger System
APR's Transverse 2.0T FSI Audi S3 and VW Golf-R K04 Turbocharger System will upgrade your current 200hp and 207lb-ft Transverse 2.0T FSI Engine with the necessary OEM components from the European Audi S3 and Golf-R along with APR's Direct Compressor DV Recirculation Port, CNC Turbo Outlet and meticulously recalibrated Engine Management to produce 355 horsepower and 368lb-ft of torque on 100 octane gas.
*Injectors Sold Separately
Reliability, drivability and enhanced performance that cannot be bested are the highlights of APR's newest OEM-component based conversion package.
APR's engineers have expertly recalibrated the engine management system to allow for nearly flat torque delivery from 2500 rpm's to 5000 rpm's which results in a smooth linear pull throughout the power band. Keeping the track enthusiast in mind, this conversion package will not result in overpowering of the driveline but will allow for smooth acceleration to easily maintain control while cornering.
The Borg Warner K04 turbocharger selected by VAG engineers is perfectly sized for the 2.0 liters of displacement to allow for stout horsepower numbers as the rpm's increase with no fall off as redline approaches. This ensures plenty of power in the high rpm's for continued acceleration in the straights or for shifting back into the healthiest portion of the power band at the drag strip.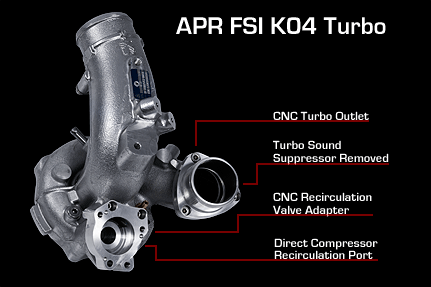 Compact, Stealthy & Reliable Design
One of the greatest benefits to the APR K04 turbocharger system is its simple, yet elegant design. APR's CNC machined direct compressor recirculation port on the OEM compressor cover significantly reduces engine bay clutter and saves the end user from the hidden costs of purchasing extra throttle body pipes, hoses, clamps and DV mounts for recirculating boost pressure. The compact design also removes extra charge piping volume to allow for lightning fast boost response and less locations for boost leaks. Furthermore, charge air pressure is directed directly at the compressor wheel which helps keep the turbo spooled upon lifting the throttle, minimizing turbo lag.
The OEM k04 turbocharger features a turbo muffler designed to reduce turbocharger sound in the cabin that also creates a restriction in the boost pressure delivery stream. APR removes the turbo muffler not only to enhance the sound of the turbocharger, but also to smooth the airflow across the previously baffled muffler section. This also eliminates the need to Purchase an OEM S3 turbo discharger pipe. A clean and simple CNC flange developed by APR's Engineering Team is bolted directly to the compressor cover in place of the OEM turbo muffler. A long mounting surface provides an excellent slip proof surface for mounting the silicon discharge hose and an o-ring between the flanges ensures a life of leak proof operation.
APR EMCS
Featuring APR's Patented EMCS program switching functionality and DirectPort Programming, APR's Engine Management Calibration for this conversion package allows for a range of Octane and situation specific calibrations to be installed simultaneously on your vehicle's ECU. These programs and features are able to be cycled through via your existing factory cruise control and activated in less than 20 seconds. You will be able to choose 1 to 4 of the following programs:
Calibration Reports

| Program | Torque | Horsepower | Redline | Speedlimit |
| --- | --- | --- | --- | --- |
| Stock Mode | OEM | OEM | OEM | OEM |
| 95 Octane Performance | 320 Ft-LBS | 320 HP | 6800 | Unlimited |
| 98 Octane Performance | 335 Ft-LBS | 323 HP | 6800 | Unlimited |
| 104 Octane Performance | 368 Ft-LBS | 355 HP | 6800 | Unlimited |
| Valet Mode | Limited | Limited | Limited | Limited |
*It is essential to ensure your vehicle is filled with at least the minimum octane rating for each Performance Calibration when activating the program.
Dyno Performance
Installation can be performed at any APR Dealer and all parts necessary for the installation except for fluids are included. For best results, APR highly recommends our Carbonio MkV Intake and an APR Intercooler. An APR Full Exhaust system is required.
Turbocharger Loyalty Program
We're pleased to announce the turbocharger upgrade path just got a little easier little for our loyal APR customers. If you've purchased an APR ECU Upgrade and want to upgrade to one of our turbocharger systems, you can take advantage of fantastic savings! It's our way of saying "thank you" for enjoying our ECU Upgrades before stepping up to the big leagues! To see the savings, look over the pricing tiers below. Pricing also includes a fully loaded APR ECU, where applicable!
Bare Bones Kit - No Software
Packages
Part Number
Price Exc VAT
Price Inc VAT
²Learn about the APR Turbocharger Loyalty Program Here
APR S3/Golf-R K04 Turbo System - No Software
T2100011

£

2415.39

£

2898.47
Note: APR K04 Software, APR High Pressure Fuel Pump and OEM Bosch K04 Injectors ARE REQUIRED!
Vehicle Application Guide
Vehicle
Engine
Engine Codes
Transmission
¹ Power levels from this kit may be too high for a stock Tiptroinc transmission. APR highly recommends transmission upgrades to support these power levels.
Audi A3 8P
2.0T FSI
AXX, BPY & BWA
6MT & S-Tronic
Audi TT MKII
2.0T FSI
AXX, BPY & BWA
6MT & S-Tronic
SEAT LEON 1P
2.0T FSI
AXX, BPY & BWA
6MT & DSG
Skoda Octavia 1Z
2.0T FSI
AXX, BPY & BWA
6MT & DSG
VW EOS
2.0T FSI
AXX, BPY & BWA
6MT & DSG
VW Golf/GTI MKV
2.0T FSI
AXX, BPY & BWA
6MT & DSG
VW Jetta/GLI MKV
2.0T FSI
AXX, BPY & BWA
6MT & DSG
VW Passat B6
2.0T FSI
AXX, BPY & BWA
6MT & Tiptronic¹
Pricing - Software Only
Stage
Minimum Requirements
Price Exc. VAT
Price Inc. VAT
IMPORTANT PRICING AND AVAILABILITY DETAILS:
- Availability and ECU Compatibility: Stages, programs, and features may not be available for all ECUs.
- ECU Revision Notice: Multiple ECU revisions exist for each platform. APR software may be temporarily unavailable when factory updates are applied. An APR dealer can check availability in person, or over the phone if the ECU boxcode/revision is known.
APR Stage I ECU Upgrade (Existing APR ECU Upgrade Customer)
APR K04-64 Turbocharger and See Requirements and Recommendations Above

£

220.74

£

264.89
APR Stage I ECU Upgrade (New APR ECU Upgrade Customer)
APR K04-64 Turbocharger and See Requirements and Recommendations Above

£

662.34

£

794.81
Motul Oil, Coolant and Oil Filter
To learn more about Motul, visit our Motul Portal
Part of the APR Turbocharger System install process requires removal of the OEM Turbocharger. During this process, oil and coolant must be drained and should be replaced to offer superior performance and protection. The APR Turbocharger Systems are now complete turn key solutions, including everything you need down to the oil, coolant and oil filter. During checkout you'll be given the option between Motul Specific 502.00, 505.00 & 505.01 5W40 or Motul Power 300V engine oil as well as Motul Inugel Optimal Ultra Coolant and an OEM oil filter. The Premium Motul lubricant package is included at a much lower than retail price point and the costs are listed below.
How to purchase

Please use the APR Dealer Locater Tool to locate an APR Dealer, confirm availability and schedule an appointment.
Please note vehicle manufacturers issue many ECU part numbers and revisions throughout their vehicle lineup. As such, some ECUs may be temporarily unavailable as new parts and/or revisions are released. If the vehicle's ECU part number and revision is known, availability can be checked at any APR Dealer.