APR K04.3 GTS Turbocharger System Upgrade - Porsche 911 3.0T
The APR GTS K04.3 Turbocharger System converts your 991.2 911 3.0T to the larger factory GTS turbochargers and includes our Stage 3 ECU Upgrade making the conversion plug-and-play! Up-to 615 HP and 549 FT-LBS of torque is available with no other modifications. Adding upgraded intercoolers bumps power up to 648 HP. This is a substantial increase in power and torque. Expect up to an additional +263 HP and +266 FT-LBS over stock on the base engine, and +244 HP and +223 FT-LBS on the S engine!
This conversion system, sometimes dubbed an x51 package by Porsche, includes all genuine parts. It includes two new and genuine Borg Warner K04.3 Turbochargers, new gaskets, and o-rings. Simply remove and replace the factory components with our new components. No other hardware upgrades are required as the 3.0T mostly shares the same components, except for the turbochargers, from the base model to the GTS model. This system works with your factory engine hardware, factory fueling, and factory emissions components. It even works with upgraded engine and exhaust components and picks up even more power with upgraded intercoolers! This is all made possible by the included world-class APR Stage 3 ECU Upgrade which is programmed to your factory ECU at no additional charge!
Features
Massive power and torque increase eclipsing GTS model power figures
Direct, bolt-on turbocharger upgrade using genuine and OEM parts
APR's world-class Stage 3 ECU Upgrade included
Compatible with all factory hardware, including all emissions and fueling
Compatible with most bolt-on upgrades
Up to 649 HP with additional cooling
Genuine Borg Warner turbochargers
Genuine Porsche gaskets and o-rings
Backed by APR's industry leading support
Extensive network of professional installers
h
h
APR World Class Calibration Expertise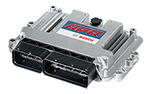 Tuning 101:
The 3.0T engine uses a Continental SDI 21 ECU for engine management. Basically, it's a computer that tells the engine how to operate. Tuning software, like the APR ECU Upgrade, tells the engine how to make more power. It does this by running more boost pressure, optimizing the cam shaft positions, adjusting the air/fuel ratio, advancing ignition timing, and more.
A Better Engine Management System:
The 3.0T's ECU is incredible. Without the driver knowing otherwise, the ECU makes intelligent adjustments to the engine's operations to keep it running smoothly. Unlike ECUs found in many other makes and models, when properly tuned, the ECU eliminates the need for custom tuning to maximize output, even when weather conditions change dramatically.
How APR Differs from the Competition:
The ECU is powerful, but extremely difficult to master. Without mastery, the ECU must be simplified, removing what makes it so desirable. The result is an incomplete product that often requires end user adjustment to maximize output in limited scenarios. On the contrary, APR's Engineers spent the better part of a decade mastering the ECU to unlock its full potential. With complete access to the thousands of maps, tables and variables within, as well as a high-level understanding of how it works, APR's Engineers were able to take advantage of everything the ECU has to offer. Power is maximized in nearly all scenarios, eliminating the need for end user adjustments. High performance operational modes are enabled and calibrated to deliver smooth daily driving, with a snappy and responsive throttle during moments of spirited driving. Mastery of the boost control system makes for an impressively predictable driving experience as the turbo spools quickly, delivering instant power, while torque-by-gear helps with traction control and protects the engine from being lugged out in tall gears. Lastly advanced high-output protection routines are enabled, allowing the ECU to make constant adjustments to airflow and fuel to cool and protect the engine, all without the driver knowing otherwise.
The APR Difference
Application Guide

| Vehicle | Market | Engine | Transmission |
| --- | --- | --- | --- |
| 911 Carrera (991.2) | All | 3.0T | All |
| 911 Carrera T (991.2) | All | 3.0T | All |
| 911 Targa (991.2) | All | 3.0T | All |
Pricing
Product
Part number
Price Exc. VAT
Price Inc. VAT
IMPORTANT PRICING AND AVAILABILITY DETAILS:
- Availability and ECU Compatibility: Stages, programs, and features may not be available for all ECUs.
- ECU Revision Notice: Multiple ECU revisions exist for each platform. APR software may be temporarily unavailable when factory updates are applied. An APR dealer can check availability in person, or over the phone if the ECU boxcode/revision is known.
APR K04.3 GTS TURBOCHARGER SYSTEM
T2100084

£

5725.91

£

6871.09
How to Purchase

Please use the APR Dealer Locater Tool to locate an APR Dealer, confirm availability and schedule an appointment.
Please note vehicle manufacturers issue many ECU part numbers and revisions throughout their vehicle lineup. As such, some ECUs may be temporarily unavailable as new parts and/or revisions are released. If the vehicle's ECU part number and revision is known, availability can be checked at any APR Dealer.
30 Day Money Back Guarantee
All APR ECU Upgrades include a 30-day money back guarantee with no questions asked. If for any reason the owners is dissatisfied with the APR ECU Upgrade, they may return to the place of purchase for a full refund, provided they are within the 30 day period from the time of the initial purchase. Labor or shipping charges are not included in the guarantee and are at the discretion of the place of install.
Limited Lifetime Warranty
All APR ECU Upgrades include a limited lifetime warranty against defects in the software, and to provide free updates and reflashes as they become available. Labor or shipping charges are not included in the warranty and are at the discretion of the place of install.