APR TCU UPGRADE - 7 SPEED DSG AND S-TRONIC - 2022+ VW/AUDI (2.0T)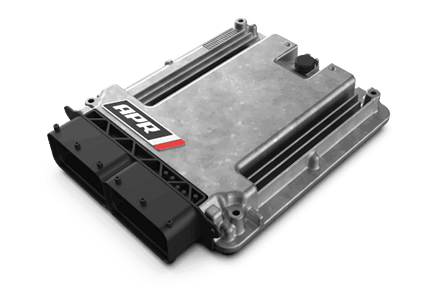 The DSG transmission found in the new 2022+ Volkswagen Golf R, GTI, and Audi S3 is nothing short of amazing. It's incredibly fast and capable and requires no hardware upgrades to hold dramatically more torque than what's possible on other transmissions. However, from the factory the transmission tells the engine to limit power and torque. Our engineers fix this by recalibrating the system to maximize torque capacity and clutch pressure to avoided transmission slipping and damage, and in doing so allows the engine to dramatically increase horsepower and torque! On the MK8 GTI we saw +25-32 WHP and +34-44 WFT-LBS of torque simply by adding our TCU upgrade on top of our ECU Upgrade. On the MK8 Golf R we saw +18-55 AWHP and +23-64 AWFT-LBS of torque by doing the same.
Features
Increases horsepower and torque on tuned vehicles
+25-32 WHP and +34-44 WFT-LBS of torque (MK8 GTI w/ APR ECU)
+18-55 AWHP and +23-64 AWFT-LBS of torque (MK8 Golf R w/ APR ECU)
Maximizes the torque capacity of the transmission
Increases clutch pressure to avoid clutch slipping and damage
Optimized wide open throttle shift points
Optimized launch control strategies
Optimized shift times
Protection routines and limits prevent overpressuring physical seals
Protection routines and limits prevent overpowering electrical components
Free lifetime updates
Direct OBDII port flash (No TCU removal)
30 day money back guarantee
INCREASED HORSEPOWER AND TORQUE
From the factory the Transmission Control Unit (TCU) tells the Engine Control unit (ECU) to reduce torque to prescribed factory limits, which greatly impacts the horsepower and torque gains from our ECU upgrade. We increase these limits and make other critical changes to ensure the transmission can withstand the increased output to allow the engine to achieve more power and torque! On our MK8 GTI we dyno tested the vehicle with each octane with our ECU upgrade and no other hardware. We saw an additional +25-32 WHP and +34-44 WFT-LBS of torque simply by adding our TCU Upgrade. We did a similar test on the Golf R and tested it both with and without hardware, and every octane. There we saw +18-55 AWHP and +23-64 AWFT-LBS of torque with the TCU upgrade! The TCU upgrade transforms the vehicle and makes it significantly more fun to drive. It's almost like getting tuned all over again!
MAXIMUM TRANSMISSION TORQUE CAPACITY, CLUTCH PRESSURE, AND SAFETY
We've recalibrated transmission limiters to allow the transmission to see more torque, and to prevent clutch, we've also recalibrated clutch pressure. This relationship is dynamic. As the transmission sees more torque, pressure is increased progressively as to not overstress the system or create harsh shifting. Furthermore the system is expertly recalibrated to the physical limits of the system. Too much pressure can blow out physical seals, and too much current can damage electrical components. We don't simply turn off the limits and crank pressure to the maximum as a finely tuned balance is necessary for component safety.
OPTIMIZED WIDE OPEN THROTTLE SHIFT POINTS
The factory wide open throttle shift points were designed to match the factory output of the vehicle. With tuning, they can be optimized future to improve acceleration times. For the best results our ECU and TCU upgrade must be used together.
OPTIMIZED LAUNCH CONTROL STRATEGIES
From the factory launch control is heavily regulated and limited resulting in a muddy launch as the transmission and engine fight to control torque. This is completely contrary to other DSG transmissions of the past and is a constant complaint on both tuned and stock vehicles as the factory method overlimits torque causing slow launches and slow 60-ft times. We've recalibrated the system to allow for a faster and more consistent launch, and ensured the clutches lock up to eliminate excessive clutch slip on the launch.
OPTIMIZED SHIFT TIMES
Shift timers are optimized to deliver the fastest possible shifts allowable by the transmission. Furthermore, artificial delays between requesting a manual shift and receiving one have been reduced as much as possible.

The APR difference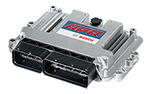 Who we are
We're a global automotive engineering firm nestled in Opelika, Alabama. Our 80,000ft² state-of-the-art facility is home to some of the best engineers in the industry, who have mastered hundreds of engine management systems. We have multiple engine and chassis dynos, and the resources necessary to create our ECU Upgrades in-house, from the ground up! We're not a new company either. We've been around since the 90's and we have a strong financial backing to ensure we'll be here to support you for decades to come!
What we do
We optimize everything to make your engine more powerful. We adjust air-fuel ratios, advance ignition, increase boost pressure, alter cam positions and lift profiles, and more, all depending on the type of engine and management system, of course! We don't take shortcuts, and we don't take risks. We do it the right way.
How we differ
With our proprietary calibration and direct ram access data logging tools and operating system code changes, we're able to make some of the strongest and fastest ECU upgrades, without needing costly end user adjustments. We work with the ECUs intelligent modeling and closed-loop systems, and beta test in multiple environments to create upgrades that work no matter where you drive!
The APR Difference
Application Guide

| Vehicle | Market | Engine | Transmission |
| --- | --- | --- | --- |
| 2022+ VW GTI, GOLF R, AND AUDI S3 | All | 2.0T | All |
Pricing
Product
Price Exc. VAT
Price Inc. VAT
TCU Upgrade

£

483.33

£

580.00
How to Purchase

Please use the APR Dealer Locater Tool to locate an APR Dealer, confirm availability and schedule an appointment.
Please note vehicle manufacturers issue many ECU part numbers and revisions throughout their vehicle lineup. As such, some ECUs may be temporarily unavailable as new parts and/or revisions are released. If the vehicle's ECU part number and revision is known, availability can be checked at any APR Dealer.
30 Day Money Back Guarantee
All APR ECU Upgrades include a 30-day money back guarantee with no questions asked. If for any reason the owners is dissatisfied with the APR ECU Upgrade, they may return to the place of purchase for a full refund, provided they are within the 30 day period from the time of the initial purchase. Labor or shipping charges are not included in the guarantee and are at the discretion of the place of install.
Limited Lifetime Warranty
All APR ECU Upgrades include a limited lifetime warranty against defects in the software, and to provide free updates and reflashes as they become available. Labor or shipping charges are not included in the warranty and are at the discretion of the place of install.