APR Carbonio B8/B8.5 Carbon Fiber Intake System
Carbonio's latest carbon fiber intake for the 2.0/1.8 TFSI & 2.0 TDI engine is a ram air design that completely seperates the intake filter from the engine bay. Building from years of experience on and off the race track, Carbonio's and APR's engineering teams have spent countless hours developing a true cold air and ram air carbon fiber design that can be recreated affordably for the street performance enthusiast.
For many years professional motorsport organizations have suffered great expense to properly tune the air intake delivery system for turbocharged engines for use in endurance and sprint races where every last horsepower and pound feet of torque can make the difference in position when crossing the finish line. Historically these designs have proven to be the most efficient and powerful although the most expensive to produce.
Aftermarket performance companies have attempted to capitalize on these designs however the cost restraints have typically resulted in compromise and deviation from the true engineering principles associated with motorsport accomplishment. Don't be fooled by catch phrases and tag lines alluding to a new intake technology or special design characteristic. You won't see any of these gimmicks installed on race cars at the Nurburgring.
Carbonio and APR have gone even further to maintain all oem specifications necessary to integrate cohesively with an otherwise stock engine. Flexibility was another characteristic of Carbonio's and APR's design whereas the new TFSI intake is also suitable for Stage 1 and Stage 2 modified engines all the way up to and beyond APR's K04 Turbocharger System.
Constructed of aerospace grade carbon fiber and designed to remove intake restriction, APR's Carbonio intake system provides smoother transitional airflow, increased air velocity, superior insulation of the incoming air to reduce intake air temperatures and a larger volume of available air to aid throttle response and turbocharger spool.
Higher Mass Airflow Readings
Ram air induction is accomplished by maintaining the oem air inlet opening at the front of the leading hood edge which is the highest pressure area of airflow across the entire vehicle. Placement of the air filter as close to this high pressure zone as possible results in overcoming some of the airflow restriction created by even the highest flow air filters available.
Smooth and Direct Air Flow
The OEM intake system vents some of the incoming air into the engine bay and takes several twists and turns before the air ever reaches the turboharger. The Carbonio intake system simplifies the intake system by directing all incoming air directly at the filter.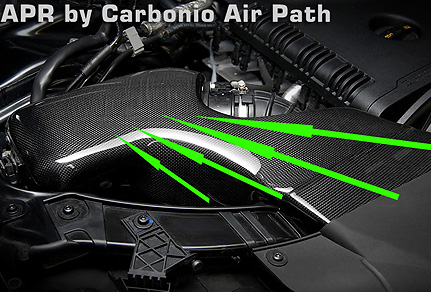 Benefits of the Carbonio CAI System include:
Increased Horsepower and Torque
Improved Throttle Response
Decreased Turbo 'Lag'
Improved Fuel Economy
Enhanced Engine Volumetric Efficiency
Enhanced Sound of Turbo Diverter Valve
Installs in an Hour (does not require bumper or headlight removal)
Maintains Clean Appearance by Retaining Factory Engine Cover
Maintains All Factory Emissions Components
Fits Both Manual and Automatic Transmissions
Fully Compatible and Complimentary, with APR Software and Exhaust systems
Maintains the Thermostatically Controlled OEM Flap Valve Assembly from the Factory Airbox
Application Guide
Model
Engine
Part Number
Price Exc. VAT
Price Inc. VAT
Audi B8 / B8.5 A4
2.0 TFSI, 1.8 TFSI & 2.0 TDI
CI100021

£

445.19

£

534.23
Audi B8 / B8.5 A5
2.0 TFSI, 1.8 TFSI & 2.0 TDI
CI100021

£

445.19

£

534.23
Is it Authentic?
Each APR Carbonio intake system is branded with a unique, one time use hologram and serial number in an effort to provide better service for our customers. The hologram displays the Carbonio logo and the name "CARBONIO" when rotated in the light. If you feel you are a victim of counterfeit products, please don't hesitate to contact us directly.