ECU Upgrade - Porsche 718 - 2021+ GTS 4.0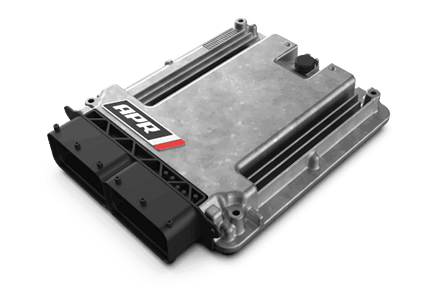 We're excited to announce our Engine Control Unit (ECU) Upgrades are now available for the Porsche 718 Cayman/Boxster (982) GTS 4.0L engine with the Bosch MG1 ECU! Expect exceptional gains from this naturally aspirated engine with up to 452-488 HP with 340-361 FT-LBS of torque on tap, depending on octane!
Our new suite of software comes after months of extensive research and development that is typically absent from the aftermarket. Our upgrade makes the engine more powerful and more exciting. We've extensively calibrated the system to work flawlessly on the track, while retaining safety routines to protect your engine in the most demanding scenarios. This was all made possible by our engineering team's pursuit of perfection. Development vehicles were outfitted with additional sensors, including thermocouples, transducers, and more, along with our high speed direct RAM logging equipment, to feed valuable data to the team for analysis. After exhausting of hours of testing and tuning we created new calibrations that are fine tuned for several octanes and contain hundreds of map changes, with a vast array of safety features built in.
Features
Delivers up to 452-488 HP with 340-361 FT-LBS of torque
Max gains of +58-94 WHP with +40-65 WFT-LBS of torque
Supports 95RON, 98 RON, and 104 RON
Ethanol and race fuel support for maximum power on the race track
Throttle angle restriction eliminated
Rev limiter increased to 8,300 RPM
Standing and neutral rev limiter increased to 6,500 RPM
Sport exhaust button fully opens and closes the exhaust flaps
Closed exhaust flaps open fully at wide open throttle above 4,500 RPM
Exhaust crackle added in park and neutral (optional)
Track optimized thermal management with added safety protection routines enabled
Proper HP and TQ values transmitted to the dash
No hardware required (Software only)
Supports standard bolt on modifications
Works seamlessly with our PDK TCU Upgrade
Free lifetime updates
Direct OBDII port flash (No ECU removal)
30 day money back guarantee
Porsche Tech Talk
APR Calibration Report

| Stage | Fuel grade | Max HP | Max TQ | Max HP Gain Over Stock | Max TQ Gain Over Stock |
| --- | --- | --- | --- | --- | --- |
| Stock As Reported by OEM | 98 RON | 394 HP | 309/317 FT-LBS | | |
| Stock As Measured by APR | 98 RON | 394 HP | 317 FT-LBS | | |
| APR Stage 1 | 95 RON | 452 HP | 340 FT-LBS | +58 WHP | +40 WFT-LBS |
| APR Stage 1 | 98 RON | 459 HP | 347 FT-LBS | +66 WHP | +45 WFT-LBS |
| APR Stage 1 | 104 RON | 467 HP | 353 FT-LBS | +73 WHP | +94 WFT-LBS |
The APR difference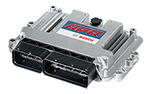 Who we are
We're a global automotive engineering firm nestled in Opelika, Alabama. Our 80,000ft² state-of-the-art facility is home to some of the best engineers in the industry, who have mastered hundreds of engine management systems. We have multiple engine and chassis dynos, and the resources necessary to create our ECU Upgrades in-house, from the ground up! We're not a new company either. We've been around since the 90's and we have a strong financial backing to ensure we'll be here to support you for decades to come!
What we do
We optimize everything to make your engine more powerful. We adjust air-fuel ratios, advance ignition, increase boost pressure, alter cam positions and lift profiles, and more, all depending on the type of engine and management system, of course! We don't take shortcuts, and we don't take risks. We do it the right way.
How we differ
With our proprietary calibration and direct ram access data logging tools and operating system code changes, we're able to make some of the strongest and fastest ECU upgrades, without needing costly end user adjustments. We work with the ECUs intelligent modeling and closed-loop systems, and beta test in multiple environments to create upgrades that work no matter where you drive!
The APR Difference
Application Guide

| Vehicle | Market | Engine | Transmission |
| --- | --- | --- | --- |
| 2021+ Porsche 718 4.0L GTS | All | 2.0T | All |
Pricing
Product
Price Exc. VAT
Price Inc. VAT
IMPORTANT PRICING AND AVAILABILITY DETAILS:
- Availability and ECU Compatibility: Stages, programs, and features may not be available for all ECUs.
- ECU Revision Notice: Multiple ECU revisions exist for each platform. APR software may be temporarily unavailable when factory updates are applied. An APR dealer can check availability in person, or over the phone if the ECU boxcode/revision is known.
Stage 1 ECU Upgrade

£

2417.50

£

2901.00
How to Purchase

Please use the APR Dealer Locater Tool to locate an APR Dealer, confirm availability and schedule an appointment.
Please note vehicle manufacturers issue many ECU part numbers and revisions throughout their vehicle lineup. As such, some ECUs may be temporarily unavailable as new parts and/or revisions are released. If the vehicle's ECU part number and revision is known, availability can be checked at any APR Dealer.
30 Day Money Back Guarantee
All APR ECU Upgrades include a 30-day money back guarantee with no questions asked. If for any reason the owners is dissatisfied with the APR ECU Upgrade, they may return to the place of purchase for a full refund, provided they are within the 30 day period from the time of the initial purchase. Labor or shipping charges are not included in the guarantee and are at the discretion of the place of install.
Limited Lifetime Warranty
All APR ECU Upgrades include a limited lifetime warranty against defects in the software, and to provide free updates and reflashes as they become available. Labor or shipping charges are not included in the warranty and are at the discretion of the place of install.