APR Cast Downpipe Exhaust System for the 4.0 TFSI
+25-59 Horsepower
+32-95 FT-LBS of Torque
Cast Bell Mouth Inlets
Full 76mm Stainless Steel System
APR is pleased to present the ultimate Cast Downpipe Exhaust System!
The APR Cast Downpipe Exhaust System replaces the restrictive factory catalyst cross pipes and resonators with an upgraded 76mm stainless steel mandrel-bent system, featuring port-matched cast inlets, high-flow catalysts and various other features. Expect better throttle response, more horsepower and an intoxicating exhaust note, while remaining civilized during normal daily driving. It's the best performance upgrade for the 4.0 TFSI following the APR ECU Upgrade and it's all designed and assembled in-house, using premium materials and world-class manufacturing techniques few can match.
Quick facts:
More power and better response
Expect a decrease in turbo lag with power and torque gains as high as 59 HP and 95 FT-LBS of torque over APR Stage I!
Full 76mm downpipe system
The APR system is a full downpipe upgrade as it replaces the kinked 60mm catalyst cross pipes and resonated midpipes with straight through, 76mm mandrel-bent tubing.
Port-matched investment-cast downpipe inlets
The factory inlets are restrictive. APR's cast system allows for massive, port-matched inlets that smoothly neck down over a long distance. The result is improved flow, better response and more power.
Dual, high-flow catalysts
GESI's encapsulated catalysts are known for their strength and performance. Expect lower emissions, reduced noise and less exhaust smell compared to catless setups, all without negatively impacting performance to over 1,000 HP. Furthermore, with the catalyst moved, expect a cooler engine bay!
T304L stainless steel construction
Premium grade T304L stainless steel resists corrosion and stands the test of time.
Argon back-purged TIG welding
Clean, strong and attractive welds both inside and outside the pipes.
OEM-style low-profile slip-on clamps
The APR slip-clamps are easy to use, resist leaks and pipe deformation better than swedged setup, are lower profile than vbands and flanges and don't require replacement gaskets.
OEM-style internally-corrugated flex sections
APR's flex sections are internally corrugated to increase flow and prevent failures common with braided flex sections.
Investment cast secondary oxygen sensor bungs
APR's obsession to details resulted in investment cast oxygen sensor bungs that sit on top of the piping, preventing material from protruding into the exhaust stream, disrupting flow.
Compatible with the OEM catback exhaust
Bolt-on and go! The system is fully compatible with the factory catback exhaust.
Designed, assembled and quality controlled in-house
All critical aspects of the system are handled internally to ensure the highest quality fit and finish.
All hardware and instructions included
New OEM gaskets, oxygen sensor harnesses, clamps, brackets and install instructions are included to make the install as headache free as possible.
APR Stage II ECU Upgrade price waived
With every APR downpipe purchase comes a free upgrade to Stage II from Stage I, saving consumers hundreds of dollars!
Limited lifetime warranty
The best system on the market also carry the best warranty in the industry!
Components
APR Stage II Calibration Report
Vehicle
Fuel
Max HP
Max TQ
Max HP Gain
Over APR Stage I
Max TQ Gain
Over APR Stage I
- APR recommends and tuned with Sunoco GT 260 for 100 AKI mode and Sunoco GT 260 Plus for 104 AKI mode. Never use lower octane than specified by the mode.
- Max increases are based on APR's actual measured stock values and not those reported by VAG. | RON = ROW Fuel Grades | AKI = North American (RON+MON)/2 Fuel Grades.
- Reported wheel figures measured using APR's AWD Dynapack and APR UK's AWD Dynojet dyno with multiple vehicles, using SAE correction and an average of multiple runs for all figures. Stage II included a high flow downpipe. Crank figures are estimated based on the measured wheel figures. Results may vary depending upon environmental conditions, vehicle, transmission, vehicle health, operating conditions, temperatures, fuel grade, dyno type, dyno setup, other variables and other modifications.
Audi S6/S7 (C7)
95 RON
575 HP
669 FT-LBS
+56 HP @ 3,850 RPM
+82 TQ @ 3,350 RPM
Audi S6/S7 (C7)
98 RON
586 HP
694 FT-LBS
+52 HP @ 3,950 RPM
+73 TQ @ 3,500 RPM
Audi S6/S7 (C7)
104 RON
602 HP
713 FT-LBS
+59 HP @ 4,050 RPM
+83 TQ @ 3,500 RPM
Audi S6/S7 (C7)
108 RON
614 HP
717 FT-LBS
+71 HP @ 4,250 RPM
+91 TQ @ 4,000 RPM
Audi S6/S7 (C7.5)
95 RON
567 HP
648 FT-LBS
+35 HP @ 3,950 RPM
+61 TQ @ 2,400 RPM
Audi S6/S7 (C7.5)
98 RON
588 HP
684 FT-LBS
+36 HP @ 3,850 RPM
+58 TQ @ 2,300 RPM
Audi S6/S7 (C7.5)
104 RON
613 HP
689 FT-LBS
+25 HP @ 4,300 RPM
+50 TQ @ 2,350 RPM
Audi RS6/RS7 (C7)
95 RON
679 HP
703 FT-LBS
+40 HP @ 4,950 RPM
+74 TQ @ 2,450 RPM
Audi RS6/RS7 (C7)
98 RON
712 HP
751 FT-LBS
+44 HP @ 5,050 RPM
+77 TQ @ 2,500 RPM
Audi RS6/RS7 (C7)
104 RON
761 HP
793 FT-LBS
+43 HP @ 4,700 RPM
+85 TQ @ 2,500 RPM
Audi RS6/RS7 (C7.5)
95 RON
687 HP
777 FT-LBS
+42 HP @ 2,700 RPM
+83 TQ @ 2.600 RPM
Audi RS6/RS7 (C7.5)
98 RON
709 HP
797 FT-LBS
+42 HP @ 2,700 RPM
+83 TQ @ 2,600 RPM
Audi RS6/RS7 (C7.5)
104 RON
730 HP
811 FT-LBS
+49 HP @ 4,950 RPM
+94 TQ @ 2,650 RPM
Audi RS6/RS7 (C7.5)
108 RON
759 HP
889 FT-LBS
+49 HP @ 2,750 RPM
+95 TQ @ 2,650 RPM
Audi S8
95 RON
672 HP
691 FT-LBS
+30 HP @ 4,700 RPM
+36 TQ @ 4,100 RPM
Audi S8
98 RON
688 HP
727 FT-LBS
+28 HP @ 4,750 RPM
+32 TQ @ 4.500 RPM
Audi S8
104 RON
710 HP
751 FT-LBS
+32 HP @ 4,200 RPM
+41 TQ @ 4,100 RPM
The APR Difference
The Engineering and Designing Phase
In the past APR worked with other manufacturers to develop a limited range of private-label exhaust systems outside the scope of APR's internal development and manufacturing capabilities. Understanding the limits of such a program, combined with APR's desire to deliver higher-quality products in a timely manner with better customer support, APR invested in internalizing the program. With the release of this exhaust system and the others like it, APR is pleased to present our first systems fully designed and engineered in-house from the ground up!
Design and development begins with the use of APR's professional grade in-house coordinate measuring machines. APR's engineers have full access to a Romer Absolute arm with integrated laser scanner, FaroArm and Creaform 3D laser scanner for collection of special constraints surrounding the factory exhaust system. The engineers scan the vehicles and create detailed 3D maps of their design environment while designing each system in PTC Creo 3.0 CAD software.
Using APR's in-house stereolithography 3D printer, rapid prototypes are created for fitment on the vehicle. The design is easily and quickly verified, and if necessary, changes can be made. Once adequate clearances and fitment is confirmed, especially in areas that move under load, physical quick-cast prototypes are created and fitted for final verification through real-world use.
APR's world-class manufacturing partners from around the globe are responsible for manufacturing each component that falls outside of APR's internal capabilities. Working closely with each manufacturer, APR's engineers supply CAD models, materials specs, and other design specifications and work hand-in-hand with the manufacturer to develop the components. The end result is a collection of components, wholly unique to the APR name, awaiting final finishing, assembly and quality control at APR's 78,000 square foot facility in Opelika, Alabama in the USA.
The Fabrication, Finishing and Assembly Phase
Manufacturing takes place both internally and externally to APR while finishing and assembly is completed in-house. APR's fabrication team sends each cast component through the ceramic vibrating tumblers to smooth and de-burr surface imperfections. Each component is then cleaned by hand and prepared for assembly.
APR's fabrication experts TIG weld each component, creating reliable, high quality and attractive welds. Each component is back-purged with argon during the process ensuring the weld is strong and consistent, as well as clean throughout. With this process complete, the APR Cast Downpipe Exhaust System is born!
Final Quality Control
APR has placed a large emphasis on improving quality control across various product lines, and the exhaust program is not excluded. To ensure the systems are delivered as advertised, APR's engineers have taken a multi-step approach that encompasses many techniques that go beyond the industry standard.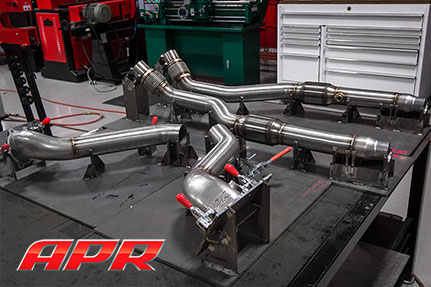 Metallurgy Testing
APR's engineers request full metallurgy reports with each batch of components to ensure the components are made with the T304L stainless steel grades specified on the original design prints. This information is then cross-referenced against randomly selected and independently tested samples before the components are released for assembly.
Dimensional Inspection
Great designs only matter if the manufacturer delivers the components as expected. To help ensure the designs are as specified, APR's engineers randomly select components and conduct full dimensional inspections using in-house 3D laser scanning equipment. Tolerances are digitally checked against the original specifications and passed or failed based on the results.
Fixtures
Operating in an environment designed for accuracy and repeatability, APR's fabrication experts leave little room for error during the final assembly phase. Jigs and fixtures, created in-house, live on custom-specified fabrication tables. This working environment ensures the highest level of quality control during the assembly process and safeguards against dimensional variations potentially created during the manufacturing process. The end result is a system that fits every time as it's true to the original design specifications.
Visual Quality
When hand-building the products in-house, an extra level of control takes place. Components are visually checked for imperfections, and items that fall out of quality standards are rejected. The products are then packaged with care before being distributed across the world.
APR's confidence in the system's quality allows for a limited lifetime warranty.
Videos
Application Guide
Vehicle
Engine
Drivetrain
Part Number
Price Exc. VAT
Price Inc. VAT
Designed for Left Hand Drive (LHD) vehicles only. Right Hand Drive (RHD) vehicles require slight clearancing.
Audi S6 (C7 & C7.5)
4.0 TFSI
Quattro
DPK0014

£

1781.40

£

2137.68
Audi S7 (C7 & C7.5)
4.0 TFSI
Quattro
DPK0014

£

1781.40

£

2137.68
Audi RS6 (C7 & C7.5)
4.0 TFSI
Quattro
DPK0014

£

1781.40

£

2137.68
Audi RS7 (C7 & C7.5)
4.0 TFSI
Quattro
DPK0014

£

1781.40

£

2137.68
Audi S8 (D4 & D4.5) - *Requires the S8 adapter
4.0 TFSI
Quattro - LHD
DPK0014

£

1781.40

£

2137.68
S8 Adapter
The Audi S8's factory catback exhaust system is located in a slightly different location compared to other models. As such, the APR S8 Adapter is required for proper fitment with the factory catback exhaust. The fit kit consists of two OEM clamps and extension pipes. The system bolts directly between the APR downpipes and factory catback pipes.
Application Guide
Vehicle
Engine
Drivetrain
Part Number
Price Exc. VAT
Price Inc. VAT
Audi S8 (D4 & D4.5)
4.0 TFSI
Quattro
FIT0003

£

190.85

£

229.02
For the best results, APR recommends installing the APR Stage II ECU Upgrade. The upgrade price is waived for APR Stage I ECU Upgrade customers with purchase of the APR downpipes.
Stage II ECU Upgrade Pricing
Engine
Retail Price
Price with Purchase of the APR Cast Downpipe Exhaust System
IMPORTANT PRICING AND AVAILABILITY DETAILS:
- Availability and ECU Compatibility: Stages, programs, and features may not be available for all ECUs.
- ECU Revision Notice: Multiple ECU revisions exist for each platform. APR software may be temporarily unavailable when factory updates are applied. An APR dealer can check availability in person, or over the phone if the ECU boxcode/revision is known.
- Stage II Pricing: Customers who have purchased an APR ECU Upgrade before February 16th, 2015 are exempt from upgrade fees.
Audi S6 / S7 (C7 / C7.5)
Contact a dealer
Free!
Audi S8 (D4 / D4.5)
Contact a dealer
Free!
Audi RS6 / RS7 (C7 / C7.5)
Contact a dealer
Free!